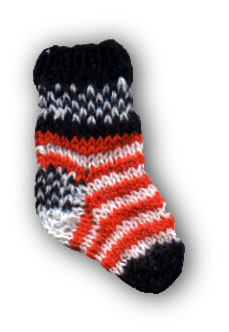 Size: Approximately 3-1/2 inches long
Materials:
Small amounts of red, white and navy blue fingering-weight yarn
Size 1 double-pointed needles
Ring marker
Pin back or safety pin
Gauge: 9 st/in
Abbreviations
st = stitch
in = inch
k = knit
p = purl
tog = together
sl = slip
dec = decrease
BOR = beginning of round
Ribbing and Cuff: With navy blue, cast on 24 stitches and work in 1x1 ribbing for six rounds. Knit one round plain, increasing one stitch.
Work five rounds of 1x1 check in navy and white.
Work one round navy, then break navy.
Work two rounds red, two rounds white and two rounds red.
Heel: Place 13 instep stitches on holder; work heel on remaining 12 stitches with navy and white yarn.
Row 1: K1 navy, K1 white, rep across row
Row 2: P1 navy, P1 white, rep across row
Work a total of six rows for heel; end on wrong side. Cut navy. Continue using only white.
Turn heel:
Row 1: K8, k2tog, k1 turn
Row 2: Sl 1, p3, p2tog, p1, turn
Row 3: Sl 1, k4, k2tog, k2, turn
Continue working heel, having one more st before decreasing on each row, until there are 6 sts. End on right side.
Gusset: Using heel needle, pick up four stitches along edge of heel flap. With another needle, knit across instep stitches. Using third needle, pick up four stitches along other edge of heel flap and knit across to center of heel stitches. Place marker for BOR.
Work one round even.
Switch to red yarn.
Next round: K to 2 st before instep, ssk, k1, k across instep, k1 k2tog, k to marker.
Next round: K around
Work these two roundss until you again have 25 stitches, alternating two rounds red and two rounds white. Continue knitting until you have a total of five red and five white stripes. Cut navy and white yarn.
Toe: With navy, knit one round, dec one instep st.
Next round: K to within 3 sts of end of needle, k2tog, k1; k1, ssk, k to last 3 sts, k2tog, k1; k1, ssk, k to end.
Next round: Knit even.
Repeat these two rounds until eight stitches remain. Arrange four stitches on each of two needles and kitchener these together.
Using navy, sew pin backing to the navy stripe below the navy and white check on the cuff of the sock. Wear with pride!