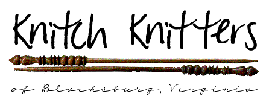 The Online Home of KnitchKnitters
A TKGA-affiliated knitting guild in Blacksburg, VA.

Meets: the 2nd and 4th Mondays of the month
Time: 10:00AM - 12:00PM
Location: Luther Memorial Lutheran Church, Fellowship Hall on the Ground Floor
(on the northwest corner of Tom's Creek and Price's Fork roads.)
If you're in the Blacksburg or Roanoke, Virginia, area, we'd love to have you join us!
Officers
Members
Events
Patterns
Newsletter